Friday March 8, 2013
"NetteRadio "Affect The Effect" Showcase Series Fundraiser Friday Mar 8 at The Talking Stick benefiting Sojourn Services For Battered Women And Their Children"
Watch Live Stream here: http://ustream.tv/channel/netteradio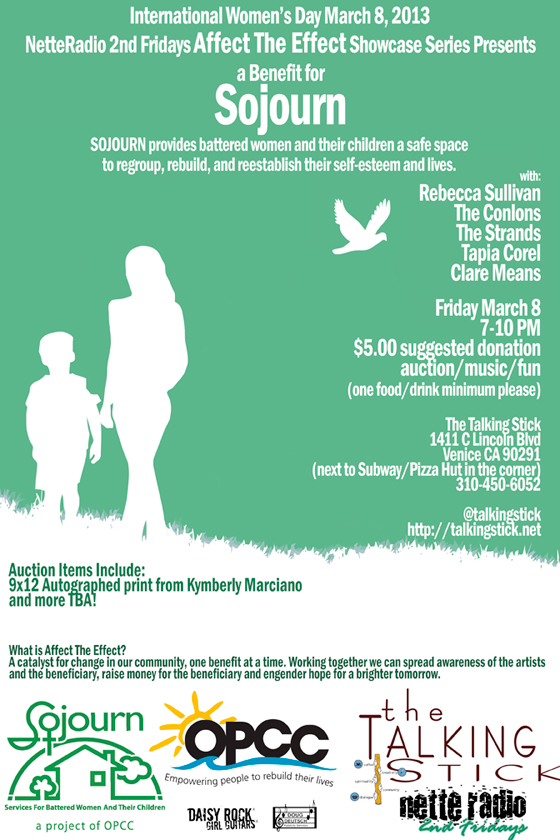 Fri March 8 2013 – NetteRadio's Affect the Effect Fundraiser benefiting SOJOURN.
with performances by NetteRadio Artists:
The Conlons, The Strands, Clare Means, Continuum (Tapia Corel) and Rebecca Sullivan.
Mark your calendar for Fri Mar 8 and celebrate International Women's Day by supporting Sojourn Services For Battered Women And Their Children.
The Talking Stick
1411-C Lincoln Blvd (@ California), Venice, CA 90291
(310)450-6052
6-10:00 PM
$5.00 Donation Cover
ALL AGES
AUCTION ITEMS include:
9×12 autographed print by Kymberly Marciano
Jewelry by Elaine Gradford
tees
cds
more tba
FREE GoGirlsMusic DropCard Compilation to the first 25!
FREE SIERRA MIST swag – just ask!
PROCEEDS BENEFIT  SOJOURN
http://www.opcc.net/ourprojects/sojourn/tabid/88/default.aspx
with performances by NetteRadio artists:
live music, auction, opportunity drawing, great food & beverages, and fun!
What is AFFECT THE EFFECT?
A  catalyst for change in our community, one benefit at a time. Working together we can spread awareness of the artists and the beneficiary, raise money for the beneficiary and engender hope for a brighter tomorrow. Affect the Effect is NetteRadio's mission.
http://www.affecttheeffect.org
BYOWine
Feel free to bring a bottle of wine ($8 cork fee payable to The Talking Stick) to enjoy while you dine on light fare or enjoy coffee/tea lattes, smoothies, juices, and other tasty snacks!
One Food/Beverage Purchase Per Person to support The Talking Stick, please. 🙂
DOWNLOAD POSTER TO PRINT & SHARE
http://www.netteradio.com
http://www.affecttheeffect.org
http://www.thetalkingstick.net