Friday May 10, 2013 "NetteRadio "Affect The Effect" Showcase Series at The Talking Stick fundraiser for the Museum of Motherhood with Mamapalooza
Watch Live Stream here: http://ustream.tv/channel/netteradio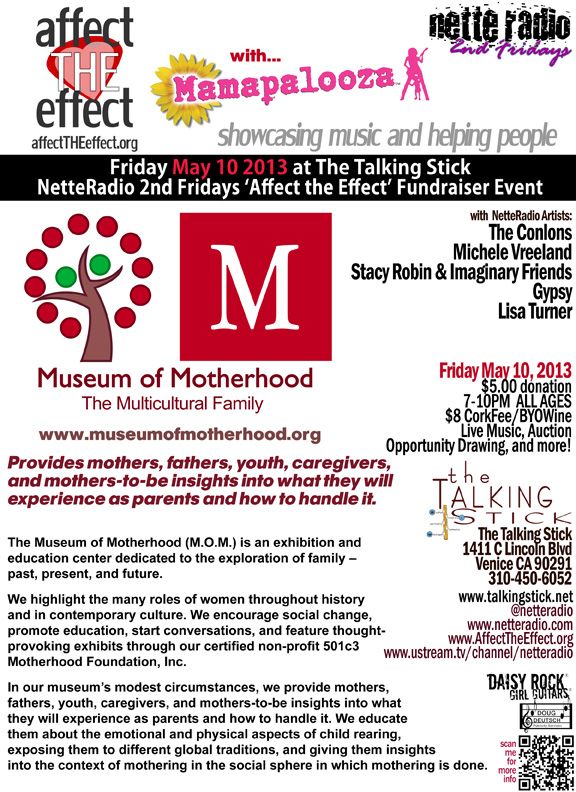 Fri May 10, 2013 – NetteRadio's Affect the Effect Fundraiser for Museum of Motherhood with Mamapalooza.
With perfomances by NetteRadio Artists: The Conlons, Michele Vreeland, Stacy Robin and Imaginary Friends, Gypsy, and Lisa Turner
The Talking Stick 1411-C Lincoln Blvd (@ California), Venice, CA 90291
(310) 450-6052
7-10:00 PM
$5.00 Donation Cover
ALL AGES
AUCTION ITEMS tba!
FREE GoGirlsMusic DropCard Compilation to the first 25! | FREE SIERRA MIST swag – just ask!
PROCEEDS BENEFIT  Museum of Motherhood
also check out: http://www.mamapalooza.com
with live music, auction, opportunity drawing, great food & beverages, and fun!
ABOUT THE MUSEUM OF MOTHERHOOD
The Museum of Motherhood provides mothers, fathers, youth, caregivers, and mothers-to-be insights into what they will experience as parents and how to handle it.
What is AFFECT THE EFFECT?
A catalyst for change in our community, one benefit at a time. Working together we can spread awareness of the artists and the beneficiary, raise money for the beneficiary and engender hope for a brighter tomorrow. Affect the Effect is NetteRadio's mission.
http://www.affecttheeffect.org
BYOWine
Feel free to bring a bottle of wine ($8 cork fee payable to The Talking Stick) to enjoy while you dine on The Talking Stick's All NEW Vegetarian Menu or enjoy coffee/tea lattes, smoothies, juices, and other tasty snacks!
One Food/Beverage Purchase Per Person to support The Talking Stick, please. 🙂
DOWNLOAD POSTER TO PRINT & SHARE
http://www.netteradio.com
http://www.affecttheeffect.org
http://www.thetalkingstick.net